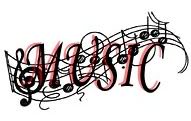 Welcome to the Music Room!
Students in Kindergarten have music 4 times a week for 20 minutes a class. Students in grades 1-5 have music class 2 times a week for 40 minutes a class. In music we learn about beat, rhythm, melody, singing, playing instruments and music appreciation. All students in music learn how to read basic music notation and continue working on this throughout their years in music.
We have two concerts a year. We do a Holiday Program in December and also have performances for the Spring Arts Festival. Please like our Facebook page Augusta Beavers Music for updates and to see what we are up to in the music classroom!